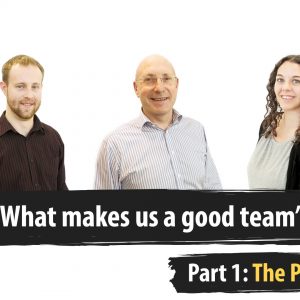 "What makes us a good team" – Part 1: The People
Craig
Craig grew up in Dubai and spent his early years messing with and crashing motorbikes.  He seems to have been the fixer of the household and took responsibility for returning to the UK to study at Derby University.  He aims to become professionally registered as a Chartered Engineer in the future and is currently working on his application to become an Incorporated Engineer during 2016.
He has been absolutely invaluable in the business tackling every challenge in a clear and well thought out way that has lead not only to improvements in productivity but has also taken a keen interest in marketing, the website, the list just goes on and on.
Irene
Irene is Spanish and came to England to study her Masters in Manufacturing Engineering at Derby University.  She is a keen sportswoman and plays basketball and swims at her local pool and has recently taken to cycling (but not ventured off-road, there's time yet).  Initially we recruited her because of her experience with some of the trickier parts of Solidworks along with her enthusiasm to learn and understand how things work.
She has proved to be really good with Photoshop and is responsible for practically every image and render across the whole of our business: everything from an image in a sales proposal to the photos on our business cards.  Her knowledge of how to use FEA software has allowed us to optimise our designs and save our clients' money by massively reducing the amount of material used.  Additionally, she is taking the lead in the business development program that we are currently working through.
Me
Ok, technology has a tendency to fall apart around me so I'm a bit behind Craig and Irene in the digital world. However, I have many years' experience of practical problem solving which, coupled with a thorough understanding of engineering principles and an ability to visualise the challenge, allows me to conceive practical and innovative solutions.
Follow us on Twitter, LinkedIn, Facebook or check the website www.beneng.co.uk for the next blog "What Makes Us A Good Team" – Part 2: The Culture.
Written by: John Bennett