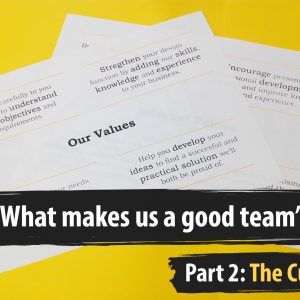 "What makes us a good team" – Part 2: The Culture
In our business we get paid by clients who value and benefit from our innovation, ideas and problem solving. No valuable ideas = No money. Therefore, it is vitally important that we have a strong and resilient team where everyone's contribution is appreciated. Here are three areas that we continually strive to improve:
Respect, honesty and equality are vital. Everyone has the right and duty to question any decision at any time and then put forward an alternative solution. This approach applies to everyone that we work with and we find that it pays dividends when working with the people who make, assembly, install or service what we design.
How we approach challenges is very important: Sometimes a solution is needed NOW, in which case we use whatever resources are to hand. Mostly though, we have time to work through a problem and go round the design cycle a number of times which improves the quality of our ideas considerably.
Let's be honest, things go wrong. We try hard to make sure that it's not our fault but inevitably once in a while we drop one. For me, the most important thing is to first find solutions. Only when the dust has settled do we look to find the cause of the problem and endeavour to put in place systems to prevent it happening again. Notice I said cause? I have never responded well to a rollicking so why should anyone else? So for me it is not about fault and blame but overcoming the problem and making sure it is difficult to repeat. Does it all sounds a bit soft? Well the few times that I've blown my top with colleagues it may have felt the right thing to do at the time but actually it really destabilised the team. These days I prefer to be calm and assertive, that way everyone is a winner.
Call us if you would benefit from working with a really strong team and view out values to clients. The next blog "The Project Approach".
Written by: John Bennett