How important are holders?
Medical practitioners told us the traditional methods for holding gauges were becoming problematic in the operating theatre.
The obstacles included having to find a strap or use ineffective clips which was far from ideal when medical practitioners rely on the gauges during complex medical operations.
Outcomes
Quick and easy to use; no tools are required
Available in single, double and triple format
Easily removed, cleaned and replaced
Organisation of gauges to use effectively whilst in theatre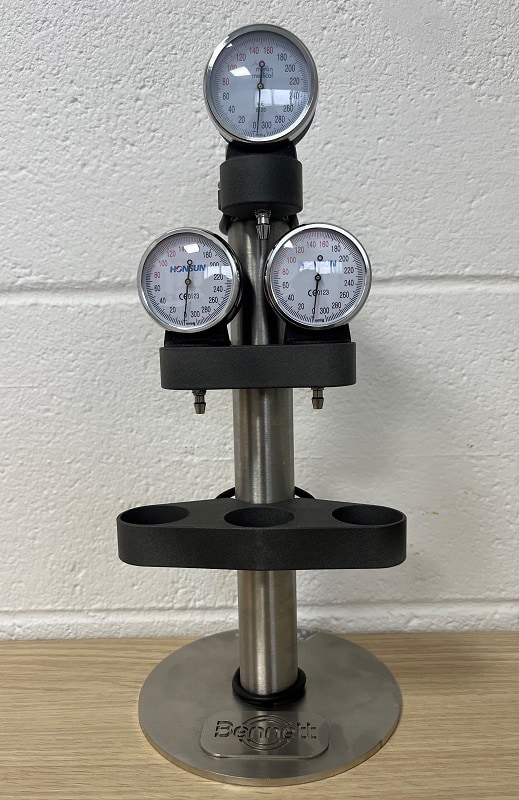 Technical Details:
The gauge holders are made with a 3D printing process (additive manufacturing process). The material chosen to make the gauge holders is called MJFPA12 which is a HP nylon plastic.
This material is very durable and has been selected to withstand the conditions within which it will be used.
The end result is a material that is rigid and black in colour.
What the client received:
These accessories were developed to simplify the way of working when it comes to cleaning and positioning. Eliminating the use of things like tie wraps to attach to the mast adding plastic waste and need for snip tools to the operating theatre. The securing rings have been developed to be fully immersed in the cleaning chemicals necessary for sterilisation.
"Really looking great on our heart lung machines. I like!" Fabio Zulauf, University Hospital Bern.
"No matter how good the HLM you can't beat aneroid gauges for speed of response. Gauge holder courtesy of Bennett Engineering." Australian Blood Management.