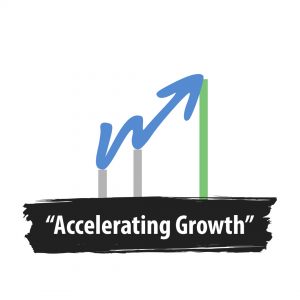 "Accelerating Growth"
We have all heard of a number of ways and methods to grow a business. The big question is "Where do I start?" During the end of 2014 we started with a system that had been provided by Charnwood Accountants to us and this lead to our first video and improving many of the images to the website. There were many features initially that we felt were not suitable at first, one of which was indeed Social Media. After running through the system a second time, an initial meeting with Shamshad Walker Marketing occurred and soon enough Social Media was introduced and is very active every day.
The system provides a continuous process for improvements and we took it further by adding our own elements with the assistance from Steve Black. A year later and we are now here with a SEO friendly website, writing blogs, posting online, new business cards and the list goes on. During this process we even moved offices. Just goes to show how much can happen when the ball starts rolling.
Most of the tasks now come as second nature. This is however a never ending process, once it is completed, it is time to review what is good, what went well and what do we need to change, introduce or improve to keep us ahead and driving forward.  I would definitely recommend finding a system and it most certainly is beneficial by putting in a little time to get started. Keep an open mind and review everything would be my advice.
Written by Craig Harbron
You can find us on…Linkedin, Facebook, Twitter, Google+ and YouTube.